The Glenfarg Community Cinema is proud to announce that, having completed its fundraising (details below), the new cinema equipment is now installed in the Village Hall.
The GRAND OPENING was on
Friday 13th March 2015
when we showed
What We Did On Our Holiday
A comedy starring Billy Connolly, David Tennant, Rosamund Pike
What We Did At Our Cinema
What we did was invite everyone to come along to help us celebrate 3 years of the community cinema, the end of our fundraising and the installation of our own cinema equipment.
The tickets sold out quickly and we had a full house of almost 80 people. Councillor Willie Robertson cut the cake, which was especially made for us by Leigh Smith.
Our Own Video
We then showed a short film made by Robin Watson. We wanted people to see how we raised the funds we needed for the new equipment, and how much easier it is now to set up for the film.
What We Did On Our Holiday
After the cake and bubbly, we sat down to watch the film together – and I haven't heard so much laughter in the hall since David Aird did his drag act. People were almost falling off their chairs.
The Future
The future is definitely bright. That was the verdict of our audience. All the comments were about the huge improvement to the sound and the quality of the picture. We can now bring you the full cinema experience.
___________________________________________
After two very successful seasons, Glenfarg Community Cinema felt confident that it has become an integral part of village life. With this in mind, we fundraised towards the purchase of our own equipment. This will be available to all users of the Village Hall.
WE HAVE REACHED OUR TARGET!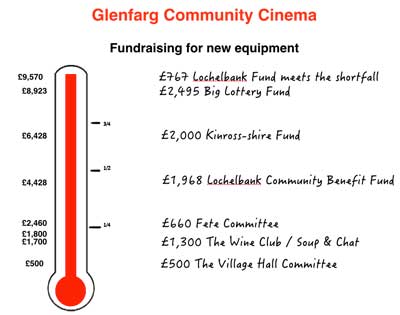 The Community Cinema was the group chosen by the Wine Club to receive the proceeds from the very successful Wine Club Show. Many thanks for the very generous donation of £1,200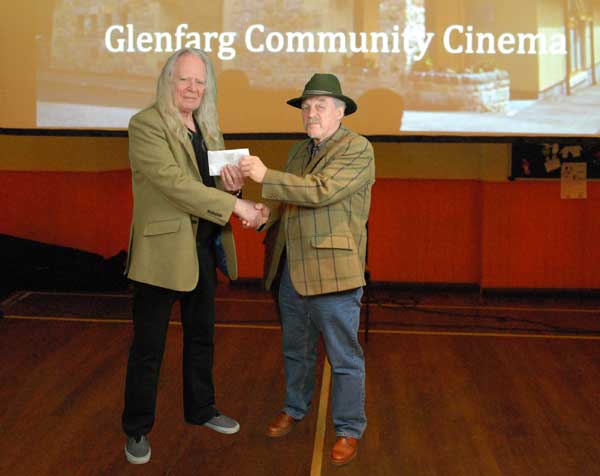 Sandy McInnes from the Wine Club presents Robin Watson of the Community Cinema with the donation.